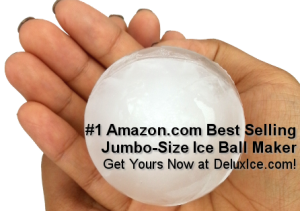 At DeluxIce Products, we always do our best to negotiate the best possible prices for all of our  diverse product lines. We also maintain long-standing relationships with only the most reputable top suppliers in the U.S., Europe, and Asia.
In business since 2005, we started out as wholesalers and then quickly moved online to serve a wider audience. We buy low, so that we can sell low! This has allowed us to pass on great wholesale pricing to the public.
With the DeluxIce Ice Ball Deluxe Sphere Maker, You'll Have Lots of Fun Making Slow-Melting Ice Balls for All Your Party Drinks!
- Our Ice Spheres melt WAY slower than ice cubes, which means no more watered-down drinks!
- Ice Balls are WAY more fun than boring crushed ice
- Perfect for cocktails, whiskey, lemonade, or any drink!
Our central philosophy is simple: give our clients the most highly personalized service available anywhere, and provide the highest quality products on the market.
We also love getting to know our clients on a first name basis, and we take pride in our fast shipping and quick responses to customer questions. Please contact us if we can help in any way!